Dr. Stephen Hsu, PhD
Camellix's founder and CEO, Dr. Stephen Hsu, PhD, is currently the Professor of Oral Biology and Oral Health & Diagnostic Sciences at the Dental College of Georgia at Augusta University. Dr. Hsu is also an award-winning international researcher, dedicated to utilizing cutting edge green tea technology to improve people's lives. A frequent speaker for conferences relating to oral health, viral infection control, autoimmune diseases, and nutrition, Dr. Hsu is also a celebrated TED Talk participant.
Dr. Hsu's unique life experiences from his early years in China directly influenced his interests in green tea and its potential health benefits. During the 1960's, China underwent a significant upheaval and Mao Tse Tung's Cultural Revolution displaced Dr. Hsu's family from a position of prominence to one of being controlled by government forces. At the age of 16, he was separated from his family and forced to work in labor camps.
Learn more about Dr. Hsu's celebrated TED Talk event "Success through Hardship" and overcoming adversity.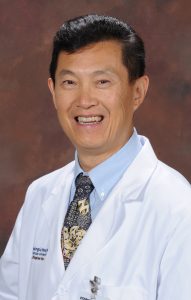 He was denied the opportunity to attend school and was provided meager amounts of food. His only shelter from the elements was a barn that once housed animals. While working there, he became very ill with a bad case of diarrhea that lasted for a very long time. The local farmers advised him to drink a beverage they prepared that contained tea plant leaves. Over time, the beverage saved his life. Undeterred by the long hours, strenuous work, and inadequate food and shelter, Dr. Hsu studied to prepare for entrance exams to attend university. He stayed awake into the early hours by pricking himself in the leg with a pin. His persistence was rewarded; after his second attempt, he passed the 3 day exam, despite being ill. He graduated from the prestigious Wuhan University in just 4 years, despite having no formal education or training during his teen years.
With only $20 in his pocket and virtually no English language skills, he flew to the U.S. to continue his formal education. Dr. Hsu excelled at Montclair State University in New Jersey where he received his Master of Arts degree in Molecular Biology, followed by a PhD in Cellular Biology and Anatomy from the University Of Cincinnati College Of Medicine. He spent four years as Research Fellow at Memorial Sloan-Kettering Cancer Center in New York.
While in NYC, Dr. Hsu was discovered by ESPN to anchor international sports news. His extensive bilingual skills and his love for many sports made him a natural fit for this position. He worked for ESPN for four years- first in Connecticut and then in Singapore as the lead anchor for Sports Center International. During his time off from anchoring, he taught biochemistry to medical students at National University of Singapore. His desire for more challenging work brought him back to medicine full time. He joined the Medical College of Georgia, recently renamed Dental College of Georgia at Augusta University. He currently serves as a professor in the Department of Oral Biology and Department of Oral Health & Diagnostic Sciences since 1999 and also serves at the local veterans hospital.
Based on his research of the benefits of EGCG polyphenols derived from green tea leaves, many technologies and products to treat various diseases and conditions, such as xerostomia and viral infections, have evolved. Dr. Hsu created the MighTeaFlow formula for dry mouth for which he received the 2011 IADR/GSK (International Association for Dental Research/GlaxoSmithKline) Innovation in Oral Care Award to conduct a clinical trial. He was chosen as a TED Talk speaker in 2014 as a result of his unique personal experience and contribution to science and medicine.
Dr. Hsu has contributed to more than sixty research publications, including successful clinical trials in treating xerostomia and oral herpes. He was recently awarded the 2015 Georgia Bio Innovation Award for his research with green tea. He has also worked as President of the Georgia Chapter of the American Association for Dental Research, and received the Innovation & Discoveries Award from the Georgia Dental Association. Dr. Hsu's most recent research proposal was awarded funding by the National Institute of Health and Department of Defense for its potential in fighting many viruses.
Dr. Hsu has presented continuing education programs at numerous Dental, Dental Hygiene, Oral Medicine and Sjogren's meetings nationally and internationally. His dental related courses are designed to enhance the dental team's understanding of the benefits of EGCG Green Tea polyphenol extracts and their clinical applications in treating cold sores, dry mouth, dandruff, and viral infections.