Research studies behind Camellix's product development
Camellix's product development has been supported by world-class research in three major areas which has led to novel and innovative discoveries.
I. Oral Health and Salivary Glands Function
The single most important factor for oral health is one's own saliva.
In molecular studies employing genomics and proteomics, the research team discovered specific genes that mediate salivary functions and can be modulated by natural compounds.
Studies at the cellular level unveiled the signal transduction pathways involved in damage and repair mechanisms in the salivary gland.
In vivo studies performed by the research team using animal models revealed that signals regulating activities of salivary gland cells can be interrupted by inflammation, medications, and free radicals generated by cancer therapies. More importantly, the investigators found that certain natural compounds can effectively protect salivary gland cells, especially the acinar cells that secret saliva.
A clinical trial (Phase II) enrolling patients suffering from xerostomia and using the MighTeaFlow formula was completed successfully. The team discovered that this formula increased unstimulated salivary flow by 400%, an indication of restoring salivary gland function.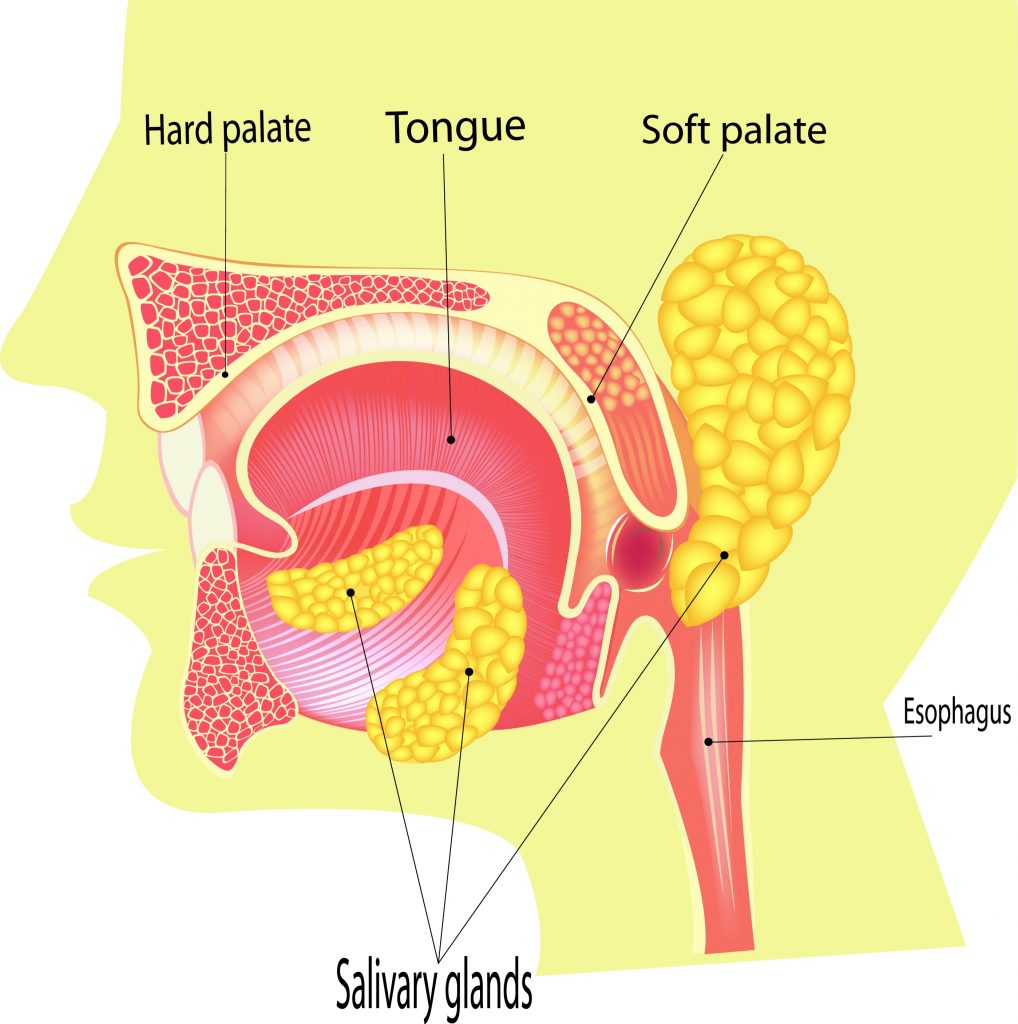 Clinical Trial Teams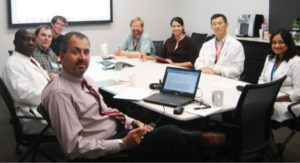 Clinical trial for dry mouth funded by "Innovation in Oral Care Award" by IADR/GSK
The dry-mouth clinical trial team from the Georgia Regents University (formerly Medical College of Georgia), College of Dental Medicine, is using our MighTeaFlow formula lozenge to treat dry mouth.
Clockwise from left to right: Dr. Scott De Rossi, Dr. Kalu Ogbureke, Dr. Douglas Dickinson, Bob Wilson (dental student), Dr. Stephen Looney, Gina Hanafi (dental student), Dr. Stephen Hsu, and Dr. Jaisri Thoppay. For more information on each member, please visit the College of Dental Medicine's website.
Peer-Reviewed Publications
Hsu S, Dickinson D, Qin H, Lapp C, Lapp D, Borke J, Walsh DS, Bollag WB, Stoppler H, Yamamoto T, Osakai T and Schuster G. (2005) Inhibition of Autoantigen Expression by Epigallocatechin-3-Gallate (the Major Constituent of Green Tea) in Normal Human Cells J. Pharmacol. Exp. Ther. 315: 805-811.
Hsu S and Dickinson D. (2006) Green Tea: A New Approach to Managing Oral manifestations of Sjogren's Syndrome and Skin Manifestations of Lupus. Journal of Biochemistry and Molecular Biology. 39: 229-39.
Hsu S, Dickinson D, Qin H, Borke J, Ogbureke K, Walsh D, Bollag WB, Stoppler H, Sharawy M and Schuster G. (2007) Green tea polyphenols reduce autoimmune symptoms in a murine model for human Sjogren's syndrome and protect human salivary gland cells from TNF-α-induced cytotoxicity.   Autoimmunity. 40(2):138-47.
Gillespie K, Kodani I, Dickinson DP, Ogbureke KUE, Camba AM, Wu M, Looney S, Chu TC, Qin H, Bisch F, Sharawy M, Schuster G, and Hsu SD. (2008) Effects of oral consumption of the green tea polyphenol EGCG in a murine model for human Sjogren's syndrome, an autoimmune disease. Life Sciences. 83:581-588.
Dickinson D, De Rossi S, Ogbureke K, and Hsu S. (2011) New targets for alternative therapeutic approaches in autoimmune-induced glandular hypofunction. Alternative and Complementary Medicine Research. 3 (2).
Ohno S, Yu H, Dickinson D, Chu TC, Ogbureke K, DeRossi S, Yamamoto T, and Hsu S. Epigallocatechin-3-gallate modulates oxidative stress in exocrine glands of a primary Sjogren's syndrome mouse model prior to disease onset. Autoimmunity, 45:540-6, 2012.
Hsu s, Dickinson D, and DeRossi S. Emerging evidence may lead to hope for early detection and intervention for Sjogren's. Sjogren's Quarterly. Vol 8:1-12. 2013
Dickinson D, Yu H, Ohno S, Thomas C, Ogbureke K, De Rossi S, Ma Y, Youngs N, Hahn E, Bisch F, Yamamoto T, and Hsu S. Expression of PCNA and p21 modulated by EGCG involves multiple factors both in vitro and in vivo. Inflammation & Allergy – Drug Target, 13(1):15-24,2014.
Dickinson D, De Rossi S, Ogbureke K, Yu H, Kragor K, Paquin B, Hahn E, Youngs N, Ohno S, Yamamoto T, and Hsu S. EGCG induces salivary gland antioxidant enzyme expression via MAPK pathways. Autoimmunity, 47(3):177-84. 2014.
DeRossi S, Thoppay J, Dickinson D, Looney S, Stuart M, Ogbureke K, and Hsu S.
Effect of A Natural Formulation Containing Tea Catechins on Xerostomia – A Double Blinded, Placebo Controlled, Randomized Trial. OOOO, 47:177-84. 2014.
Related Books
Dickinson, D., Gillespie, K.R., Kodani, I., Camba, A.M., Hsu, S*. (2009) Potential Role of an abnormal proliferative, reparative response in initiation and maintenance of Sjogren's syndrome, and the beneficial effects of green tea polyphenols. In Vogel F., Zimmermann L.(Eds.), Autoimmunity:Role, Regulation and Disorders. Nova Publishers. Hauppauge, NY. USA.
Hsu, S. (2009) Protection of the salivary gland function by green tea extract. In Yamamoto T. and Osaki T (Eds.) Brief Textbook on Lesions of the salivary glands and hyposalivation-associating fungal infections, Tokyo, Japan: Asuka Press Company.
Stephen Hsu* and Christine Deriso. (2011) Green Tea and Beyond. Nova Publishers.
Dickinson, D., Ogbureke K., DeRossi S, Hsu S*. (2011) Chapter 6: New Targets and Approaches to Autoimmune-Induced Salivary Hypofunction. In Maria E. Petrov (Eds.). Autoimmune Disorders: Symptoms, Diagnosis and Treatment. Nova Publishers, Hauppauge, NY. USA.